/Film – October 8, 2020 at 01:39PM: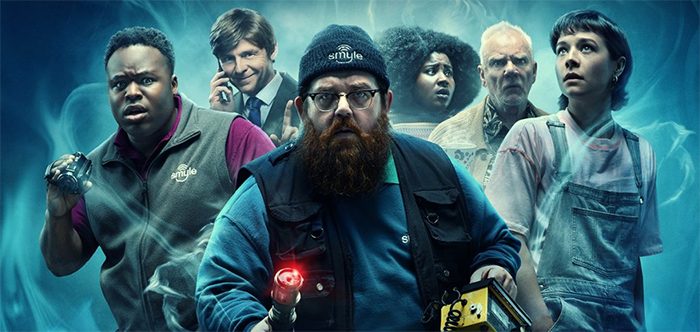 Amazon is bringing Simon Pegg and Nick Frost back to the world of horror with a new series called Truth Seekers. Nick Frost stars in the series as Gus, an internet installer who also hosts his own paranormal investigation web series called Truth Seekers on YouTube. Usually, he ventures into abandoned places while out on the job, but now he has to bring a new partner (Samson Kayo) with him, and they end up stumbling onto a lot of real paranormal activity.
Truth Seekers held a panel with Nick Frost and the rest of the show's cast members (unfortunately without Simon Pegg) to talk about the upcoming series, and we've honed in on some of the finer points from their discussion. Plus, you can watch a couple new Truth Seekers clips that show off a little more of the comedy to go with the horror.
Truth Seekers Clip
Truth Seekers may be fiction, but Frost very much believes in the paranormal. He even shared a story about a woman ghost who haunted an apartment that he shared with Simon Pegg. The entity supposedly kissed him suddenly on the forehead when he was laying in bed one night, making him think Simon Pegg was messing with him, but his friend wasn't even there. These are the kind of experiences that informed the show, not to mention Pegg and Frost's tendencies to seek out horror movies at a young age.